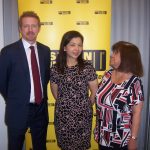 Anyone would expect a person of her stature, title and responsibilities to display that Machiavellian command of respect. Well, she did look very respectable but Ms Patricia Riingen was far from being supercilious or overbearing. Having been seated very close to her, I found her to be amicable and unpretentious.
At the very star of her presentation, she insisted on being seated on being
seated among members of media, saying that everyone present is encouraged to participate in the discussion as if it were a casual conversation.
That's Ms Riingen, the Senior Vice President of Western Union, an American company that was founded way back in 1851 in New York and is now celebrating its presence of 25 years in the Philippines. She has responsibilities in South East Asia and Oceania which includes Australia and New Zealand.
Riingen said "through the years, Western Union has enabled overseas Filipinos to build their dreams for a better life and through the Western Union Foundation, we have touched many lives through community projects and by being the first to respond to their emergency situations and providing emergency relief."
Having started in July 1990, she said that the company's "first agent location in the Philippines [in Paseo de Roxas, Makati City] still exists today, mentioning that it was also their first agent location in Asia."
Today, Western Union has eleven agents and those agents have been able to set up 7,600 locations all over the Philippines. The company offers several products, the biggest of which is their "inbound money transfer services [to the Philippines] coming from over 500,000 locations from all over the world across over 200 countries and territories."
Filipinos from around the world can send money in minutes to the Philippines through Western Union and its agents representing multiple classes of trade from banks, postal institutions, foreign exchange houses, retail to travel agencies.
Some of their agent locations operate outside of business hours and even during public holidays while others offer 24/7 service.