Meet Alexandra Andresen, the youngest billionaire in the world, valued at $1.2 billion. Sh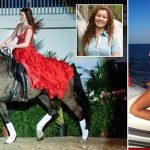 e just graduated from high school.
It was the first time that her name and picture appeared on Forbes Magazine as one of the world's billionaires.
At the young age of 19, she's tied on the list with her 20-year-old sister, Katharina Andresen. The billionaire sisters each own 42% of their family's investment company Ferd.
"Their fortune is all inherited, but it is remarkable that the three youngest billionaires on the list are all Norwegian," Kerry Dolan, the assistant managing editor at Forbes told the Telegraph.
Their father, Johan H. Andersen, gave away 80% of his stakes to his two daughters, launching them onto Forbes' billionaire list.
It is suspected that the inheritance was passed down so early for tax purposes, and to position the children to join the family business.
"In particular, the family is increasingly considered a team of equal partners where seniority and gender do not count anymore," Oyvind Bohren, a professor of finance at the Norwegian Business School in Oslo said. "The parents more often consider their children their peers, and they find it more natural that their children participate more seriously at the top."
Despite being the richest teen in the world, Alexandra lives a low-key lifestyle as a dressage competitor who promotes veganism on her Instagram page.
She said she still saves up all her money and her father insists she buys cars second hand.
When the world first learned about her wealth, she received 500 new friend requests on Facebook, Alexandra said in 2014. (New York Daily News)