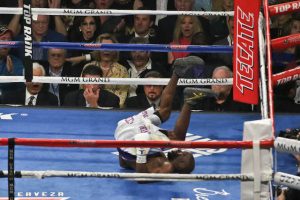 Manny Pacquiao may have failed to knockout Timothy Bradley but he succeeded in sending him down to the canvass two times. Bradley was sent tumbling backwards with his bum and both feet turned up in the air, making the Pacquiao punch really sensational. 
Apparently, his right shoulder injury has completely healed. During his fight with Floyd Mayweather, the undefeated American black boxer from Nevada concentrated many of his punches on the Filipino's right shoulder. There were speculations that Mayweather was tipped off and knew about Pacquiao's shoulder injury.
Manny, known throughout the Philippines as the national champion is currently running for Senator. He is making a shift from being Congressman of Sarrangani province in the Southern part of the archipelago.
SB Nation reported: "Pacquaio (58-6-2, 38 KO) was just a little bit better than a very good version of Bradley (33-2-1, 13 KO) in their third fight, taking control after the first four rounds and just looking sharper, quicker, and stronger than his opponent. It was the stamp on this three-fight series, which started with a shocking and controversial Bradley win in 2012. Pacquiao won the 2014 rematch, and if there was any real doubt as to the better fighter between the two, he ended that debate tonight."
Pacquiao's guaranteed purse for the night is $7 million versus Bradley's $4 million. Both will have proportionate share in pay-per-view proceeds. It was a big drop from the Mayweather-Pacquiao purse which soared to $100 million plus pay-per-view earnings.
Philippine's revenue czar Kim Henares will again be after Pacquiao but she must be aware that the Filipino boxer is already being taxed in the United States.
Will Mayweather give Pacquiao a return match? That is very doubtful because of the result's of tonight's bout, the more he will be afraid to fight the Filipino national champion. If ever, Floyd will again be making ridiculous demands just to avoid losing. If he gives in, he will again be the 'dancing queen' of the ring, avoiding Pacquio's powerful left hook which he fears very much. – Dino Crescini