The Legacy of Two Nations
Second Annual Conference& Exhibition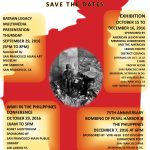 September 29, 2016– In commemoration of the 75th anniversary of the invasion of the Philippines (December 8, 1941), Bataan Legacy Historical Society, Memorare Manila 1945, the San Francisco Public Library and the Philippine Consulate General present World War II in the Philippines – The Legacy of Two Nations, The Second Annual Conference.  The Conference will take place on Saturday, October 29, 2016from 10AM to 5PMat the Koret Auditorium of the San Francisco Main Public Library at 100 Larkin St. in San Francisco.    Admission is Free but Registration through Eventbrite (WWII in the Philippines/Bataan Legacy) is recommended.
An Exhibition, WWII in the Philippines – The Legacy of Two Nations and the Role of San Francisco during the War will open on Saturday, October 15 at 11AM at the Trophy Room of the San Francisco War Memorial Veterans Building located at 401 Van Ness Ave., San Francisco, CA.  The exhibition is sponsored by the American Legion War Memorial Commission and the American Legion Eighth District Council, Department of California, in collaboration with Memorare Manila 1945, the National Park Service, the National Japanese American Historical Society, Hamilton Field History Museum and the Philippine Scouts Heritage Society.  Lt. Col. John Stevens, a hero of WWII (Midway, Palmyra,Okinawa) and Korean War, will open the exhibition.
The October 29Conferencewill feature speakers from the Philippinesand across the United States who will give different perspectives of the war.  Survivors of WWII in the Philippines will speak about their experiences in two panels: Life during the Japanese Occupation and Children of the War.  Descendants of Philippine Scouts, Philippine Commonwealth, Filipino guerrillas and nurses will speak about the experiences of their loved ones during the war.  Many of these stories have not yet been published.  Opening remarks will be made by two retired U.S. Army generals of Filipino descent:  Maj. General (Ret.) Antonio Taguba and Maj. General (Ret.) Eldon Regua.
The California State Board of Education recently approved the inclusion of WWII in the Philippines in the history curriculum framework forGrade 11 U.S. History (Chapter 16).  The Bataan Legacy Historical Society worked closely with the California Department of Education to make this possible and has started the process of creating a sample curriculum template that schools can use to implement the new history framework. – By Cecilia Gaerlan-Shuttleworth