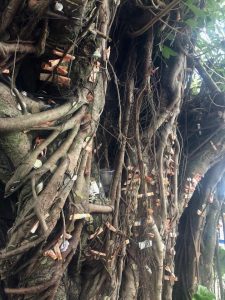 In the Philippines, many people are afraid to go near a Balete tree. They believe that this tree is       haunted or is the chosen dwelling of preternatural creatures. But there is one particular Balete   tree located beside a national highway in Sitio Dikiri in Pasuguin, Ilocos Norte that people visit quite   often. The tree is full of peso bills and coins. There are even some foreign currencies inserted between its roots.

People who place money on the tree have various kinds of wishes. Hence, they refer to the tree as a "Wishing Tree."
The owner of a restaurant beside the tree said that the belief started some five months ago when a balikbayan (Filipino returnee) inserted some money between its roots. He believed that the tree would bring him luck. Local residents talked about what the balikbayan did until they started doing the same thing.