by Evelyn Opilas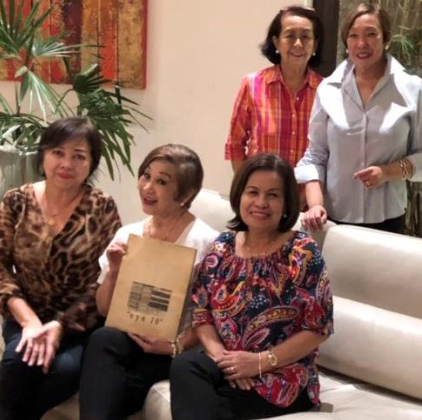 Alumnae of STC QC C'70 affectionately call each other 'Gels', recalling their late mathematics professor Noemi Zamora's collective term for her students.
Silver jubilarians HS'95 and Golden jubilarians C'70 in partnership with St. Theresa's Alumnae Association (STAA) and other jubilarians are preparing a spectacular program with the theme "Kahit Kailan, Kahit Saan, Theresian ━ #BalikSTC sa 2020".
The homecoming aims to celebrate youth and friendship in a festive and nostalgic environment anchored on a shared past and Theresian values.
It will also be a fund-raising action to support STAA projects, the maintenance of De Meester Residence and the Queen of Peace Convent, and other beneficiaries.
'Blue and Gold', the school colours, will be the unifying theme of the festivities to be held at the high school lawn, which Theresians fondly call 'Our playground'.
Mass at the jubilarians in 2020 include:
Class 1955 – 65 years – Sky blue
Class 1960 – 60 years – Diamond
Class 1965 – 55 years – Emerald
Class 1975 – 45 years – Sapphire
Class 1980 – 40 years – Ruby
Class 1985 – 35 years – Coral
Class 1990 – 30 years – Pearl
Class 2000 – 20 years – Green
Class 2005 – 15 years – Red
Class 2010 – 10 years – Blue
Class 2015 – 5 years – Turquoise
C'70 alumnae have organised mini-reunions in Manila in the lead up to their golden jubilee as well as "scouring for addresses/contacts of classmates," quoting Evelyn Romero-Bondoc of the planning committee.
The STC College Department was transferred to Quezon City in 1966 from STC Manila on San Marcelino St., which has since been sold to Adamson University.
Graduates of C'70 were the Freshmen when the college department began its operations on D. Tuazon Ave. corner Ma. Clara St., Quezon City. Courses at the time included Bachelor of Arts, Bachelor of Science in Business Administration, and Bachelor of Science in Commerce. Ω