As seen on the March 2020 issue of Philippine Sentinel
MANILA (UPDATED) — ABS-CBN in 2016 aired all the national political advertisements of then-presidential candidate Rodrigo Duterte, but some of his local ads could not be aired due to an airtime limit, the media network's president and CEO said Monday.

Testifying at the Senate Public Services Committee hearing, ABS-CBN Corp. President and Chief Executive Officer Carlo L. Katigbak answered publicly for the first time President Duterte's accusation that the broadcast network swindled him after it allegedly failed to air his ads for the 2016 national elections.

"The President placed an order for P117 million worth of national ads, of which we aired all P117 million. In other words po, a hundred percent of the President's ads which were ordered for national airing were accommodated and broadcast and aired by the station," Katigbak said.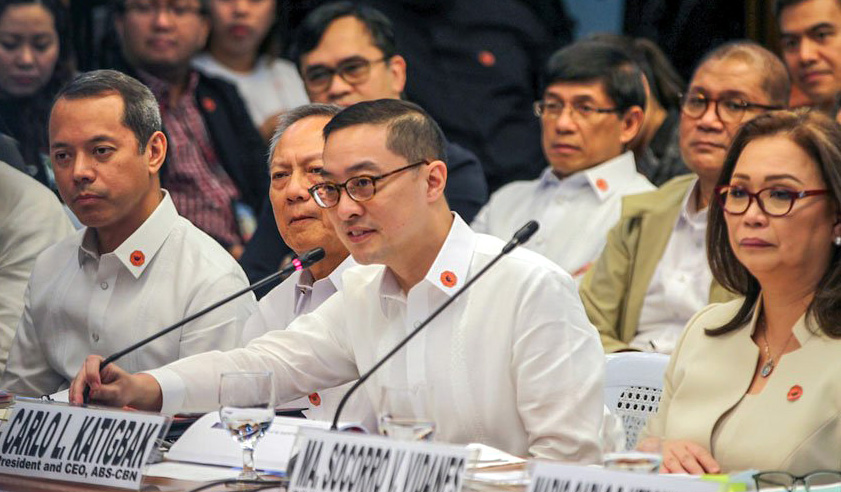 "Doon po sa local ads, nagka-problema talaga kami," he added.
(With the local ads, we really encountered a problem.)

Only 2 minutes of local ads can be aired in an hour and many spots were already ordered on May 3, 2016, 4 days ahead of the last day of the campaign period, noted Katigbak.

"Our policy on all our ads is first come, first serve… There had been many previous telecast orders that came in ahead of the President's telecast order," he said.

Duterte placed an order of P65 million worth of local ads, of which ABS-CBN failed to air about P7 million, he said.

Out of the unaired ads, around P4 million was initially refunded and accepted by the Duterte campaign, Katigbak said.

ABS-CBN was "delayed" in refunding the remaining P2.6 million and the amount "was no longer accepted by the President," he said.

"On this issue, we acknowledge our shortcoming in our failure to release the refund in a timely manner," said Katigbak.

He also denied insinuations of bias for airing negative ads paid for by then-Senator Antonio Trillanes IV that allegedly maligned Duterte.

"We were sorry if we offended the President. That was not the intention of the network. We felt that we were just abiding by the laws and regulations that surround the airing of political ads," he said.


"Today, we want to make a categorical statement together with our chairman Mark Lopez that ABS does not and will not have its own political agenda."
First published in ABS-CBN News