This is not personal. There is nothing personal in this column. This is questioning the integrity of an organisation that claims to be the peak body who have been in denial for so long and who fails to see that the faults of one of their members continue to harm the reputation of PCC-NSW.

Despite the litany of misdeeds over the years, Alric Bulseco continues to remain in PCC, unfazed by any complaints. Bulseco claims he has "passion for the community." And yet, staunch supporters have left PCC-NSW because of his intimidation and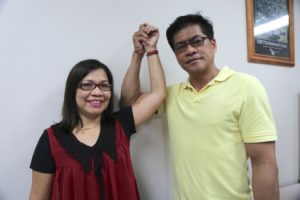 harassment tactics.
The minority who are able to think straight and who have no desire for the limelight have opted to free themselves of the stress and sadly, have parted ways much to the detriment of PCC.
There's a two page list of Bulseco's misdeeds, but previous complaints made to [past presidents] Elsa Collado and Jun Relunia have been simply ignored. It's been stonewalling at its best. Of course, let us not forget the "grand rip" when Bulseco tore the letter of complaint calling it "rubbish" while other members of the Board simply looked on. It would seem that incumbent president Evelyn Beed is on a similar track. And the current Board is misinformed and therefore unable to reach the right decision.
With Bulseco, it's his way or the highway. There is no gratitude, apology and definitely no intellectual discussions. Worst is the fact that he has two sets of rules and he changes the interpretation of the constitution according to his liking and to his benefit. The best example of this was his insistence on remaining on the PCC Board even when Ateneo resigned from PCC in 2013. And yet, he was emailing organisations like Filipino cooperative for representation. When this was not possible, he simply shifted to Aust-Mindanao for the remainder of the year.
Another example would be his unethical way of obtaining quotations.  Some are required, while others are not. He even shares quotations with those he wants to win the job. He'll twist the truth beyond recognition and the gullible fall prey.
His altercations and verbal diatribe with the likes of Angie Jenkins, Jade Cadeliña, Atoy Sayas, Mao de Vera, Dr. Alexis Leones, Solina Lapalma, Benjie de Ubago, and even former President Jun Relunia are only to name a few of those with whom he has crossed words and who have been in the receiving end of his sudden inexplicable rage. As in the case of the Consul Reyes' farewell, he flew into a rage after the dinner because somebody else organised the event. According to a witness "Grabe, instead of saying thank you na libre na, nagalit pa. Ngayon lang ako nakakita ng ganoon."
Bulseco entered PCC as Ateneo's "flying voter" when he voted at the elections despite the fact that he was not a member of Ateneo Alumni Association and only became a member later. Then he made his entrance in 2009 as the PRO, a role he did not understand and failed to do anything.  Then, he flew to the VP position and has remained glued to the seat.
To this day, Alric Bulseco continues to flaunt his title as Vice President-External of the Philippine Community Council as most other officers and members of the PCC-NSW board were personally handpicked by him though lobbying prior to every PCC Annual General Meetings. Months prior to the election, Bulseco is out on the hunt for possible candidates and will find them clubs to represent to get them in. His manipulation of past elections has been evident  resulting to Rissa McInnes being on the board representing Australian Consumer which does not exist and De Vera's signature was backdated. Even Annie Benitez did not even know she was nominated for AusMindanao and was simply told to attend the AGM. Of course, Bulseco himself was in search of a club when Ateneo resigned and he moved to Villaver's group, BayBay and Friends and then later changed to AusMindanao, and then back to Ateneo. It's as easy as changing shoes!
(We do have a long list of his sins, if anyone wants it, just email us.)
Perhaps the biggest problem are those who sit on the Board who are either too lazy to check facts, and fail to comprehend and understand the repercussions his attitude and behaviour on the whole image of PCC. The Board members, especially the new ones, who do not want to get involved, fail to see that the reputation of one individual affects the reputation of the entire organization.
The former Presidents, who are supposed to serve as advisers, sit on the sidelines just watching the intramurals. However, they should know better and are equally to blame for what PCC has become. They too, share the burden of responsibility.  Unfortunately, it would that seem that they remain mum and unruffled by Bulseco's antics, as long as they are given their due recognition and a chance to glitter under the spotlight.
Relunia himself was badly burnt during his term as every idea he brought to the Board was crushed. He pledged not to go near PCC but lately he seems to have had a change of heart. It's been forgive and forget, "move on, and he has made peace with Bulseco, even to the extent of going on his side, maybe for fear of not getting his share of the limelight. One other former president keeps reiterating "Bulseco must go! He must go!" And yet is seen defending him at meetings.
Bulseco's morals have been in question and brought to the surface in the past few months. And the current Board labels it "personal". It is true, that it is his personal life and he has every right to live it the way he wants to, but the issue is not about being a divorcee. The issue is the way he flaunts it and his attitude. His behaviour and attitude on the Board has been in question for years. In any other situation, he would have been asked to step down or sacked. If he was decent enough, he would have resigned. If he is able to twist the Presidents and other members, they must be either plain stupid or he's writing for them because they can't!
If PCC-NSW wants to continue their claim to be the peak organisation of the Filipino community, then the organisation and its Board members must stand for the ideals of the Filipino. If people intend to step into a leader's role, then they must have integrity and good morals at the very least. A little intelligence would also help. As pillars of the community, they must set good examples. Only then, can they command respect!
In the words of Bulseco himself, "Are these the kind of leaders, we deserve?" Definitely not!
— by Dino Crescini