Februar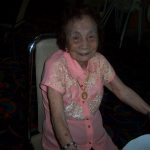 y 10, 2016 — Doña Consuelo Mangona celebrates her 95th Birthday; she looks forward to her 100th. She can walk without help and can recognize people, mentioning accurately their names. It's a classic case of Mens sana in corpore sano, Latin phrase for "A healthy mind in a healthy body." At her ripe age, she shows no sign of dementia.
Her daughter Aleli Canonizado hosted a day-long celebration for Mrs. Mangona with her siblings Riza Angeles, Racquel de Leon, Ruben Mangona, Raul Mangona and Rey Mangona.
When asked how many grandchildren she has, she proudly declared: "I have a total of 10 grandchildren and 9 great grandchildren." She certainly deserves the title Doña and loves to play the poker machine.