Last month, many Filipinos cheered for the Philippine Baseball Team who braved the summer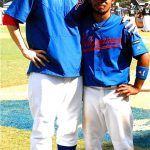 heat at the Blue Sox Baseball Stadium in Rooty Hill NSW.
Two players are from Ateneo de Manila University while two others are from De La Salle.
Retired journalist Jaime Pimentel took a photo and tagged it as "The Long and the Short of it."
Shown is pitcher Clay Rapada and second baseman Adrien Bernardo whom photographer Pimentel described as "hits like a mule and runs like a bat out of hell."
Unfortunately, the team lost to Australia and New Zealand.