By Demi Robinson
As seen on the March 2020 issue of Philippine Tribune
On 16 February 2020, PCC-NSW held its Annual General Meeting and Elections. Bicol Inc's authorised representative Bobby Lastica was not allowed to vote by the Returning Officer, Rey Manoto. The reasons given by Manoto were the defect in the date of appointment of Lastica and the revocation letter of Bicol Inc's chairperson Ben Bongat. The appointment form showed alteration from 23/01/2020 to 23/02/2020. Lastica admitted to have changed "01" to "02" by mistake. A request was made on the floor to have the general membership decide on the validity of the appointment but Manoto denied this and ruled to disenfranchise Bicol Inc.

On February 18, a protest and appeal were filed by Bicol, Inc. to set aside the ruling of the Returning Officer and to allow Bicol, Inc. to vote. In case of tie in the Vice President Internal's position, to conduct a second balloting for that position. The election results recorded 21 votes for Darrell Swadling and 20 votes for Penny Perfecto.

The latter is a member of the Bicol Inc. Council and would have voted if she were allowed. Perfecto also filed her own protest in support of her own appeal.

Bicol Inc. stated in its protest that the Returning Officer unreasonably and unfairly exercised discretion in not allowing Bicol Inc. to vote and that his ruling had no legal basis.

In support, Bicol Inc. argued that the change of date was an honest mistake. The appointment of Bobby Lastica was made by the Bicol Inc. board in its meeting on 15 January 2020 to be its authorised representative to attend and vote at the PCC-NSW AGM and elections on 16 February 2020.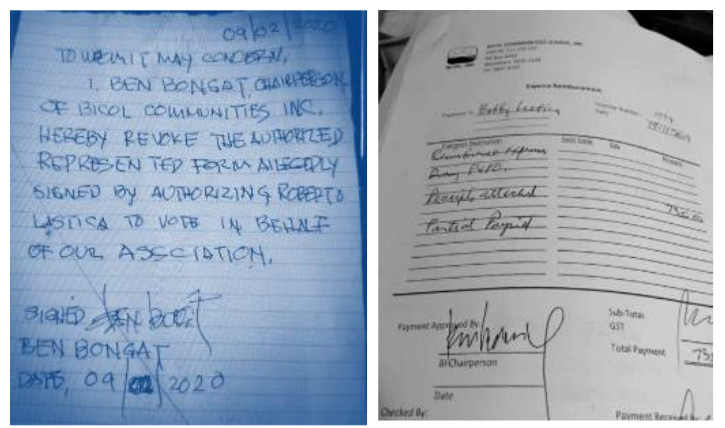 Bongat signed the appointment form for and on behalf of Bicol Inc on 23 January 2020 and this signed form was sent by post on 28 January 2020 to PCC-NSW. According to Lastica, Bicol Inc also sent on 14 February 2020 by email to PCC-NSW a copy of the Bicol Inc. resolution appointing Lastica as its authorised representative. Bongat cannot revoke an appointment made by the Bicol Inc. Board. Copies of the Bicol Inc's appointment forms, resolutions and vouchers signed by Bongat for comparison of signatures were submitted to the Returning Officer in support of Bicol Inc's protest.

It is also argued by Bicol Inc. that Manoto failed to realise that by giving weight to the Revocation allegedly signed by Bongat, he acknowledged the existence of a valid appointment. Without a valid appointment, there is nothing to revoke. Further, Bicol Inc. maintained that the signature of Bongat in the Revocation differs from his signatures on the appointment forms and Bicol Inc. vouchers that he signed.

Manoto, in his response to Bicol Inc. dated 18 February 2020 stood by his disenfranchisement ruling and reiterated his reasons being the alteration of date on the appointment which made the appointment null and void and the revocation letter made by Bongat dated 9 February 2020. He further stated that Lastica's action in falsifying document should be reported to the police.
Another protest was filed by Zena Samar seeking to annul the election of Alice Tayaban as Treasurer and to declare her as unopposed candidate because Tayaban did not have a valid nomination. Manoto deferred a ruling and referred the matter to PCC-NSW Legal Officer.

On 24 January 2020, an FB post reported and showed the induction of the 2020 PCC-NSW Board by Consul General Ezzedin Tago at the Philippine Consulate Office. According to some of PCC-NSW affiliates' members, they were not aware of this induction. Inductions of PCC-NSW Officers and Directors in the past were done in public, not on closed doors and affiliates and guests were invited to attend.

On 25 February 2020, Bicol Inc filed with the Returning Officer and PCC-NSW a request for a public hearing and summon the attendance of Ben Bongat, Alric Bulseco, Rod Dingle, Bobby Lastica, Zen Samar, Penny Perfecto, Demi Robinson, Neria Soliman and anyone who witnessed the appointment and revocation to decide in the interest of justice the election protests and appeal.

The questions that await answers: Are the signatures of Bongat genuine? Can Bongat as head of Bicol Inc revoke an appointment made by Bicol Inc. Board? Who prevails in appointing a representative for an association to attend meetings and cast votes, the Board or the president? Did the Returning Officer abuse his discretion? Is the alteration of date by Lastica that resulted in his disqualification an honest mistake? The PCC-NSW affiliates and the Filipino Community await with interest the results of this election protest.